The history of Seaventures Dive Rig is one of intrigue, creativity and inspiration. Sometimes known as The Rig — it was built in Panama, Seaventures is a jack-up accommodation module previously used in the oil and gas industry. It was towed and used for oil rigs in different locations until decommissioning in 1985 where it was left in a shipyard in Singapore awaiting its next journey.
Its next journey began when an ex Chief Minister came across this great metal structure and had the vision and foresight to see its potential. He wanted to breathe new life into it and revive it as a hotel that could be situated right in the thick of it, in the middle of the sea.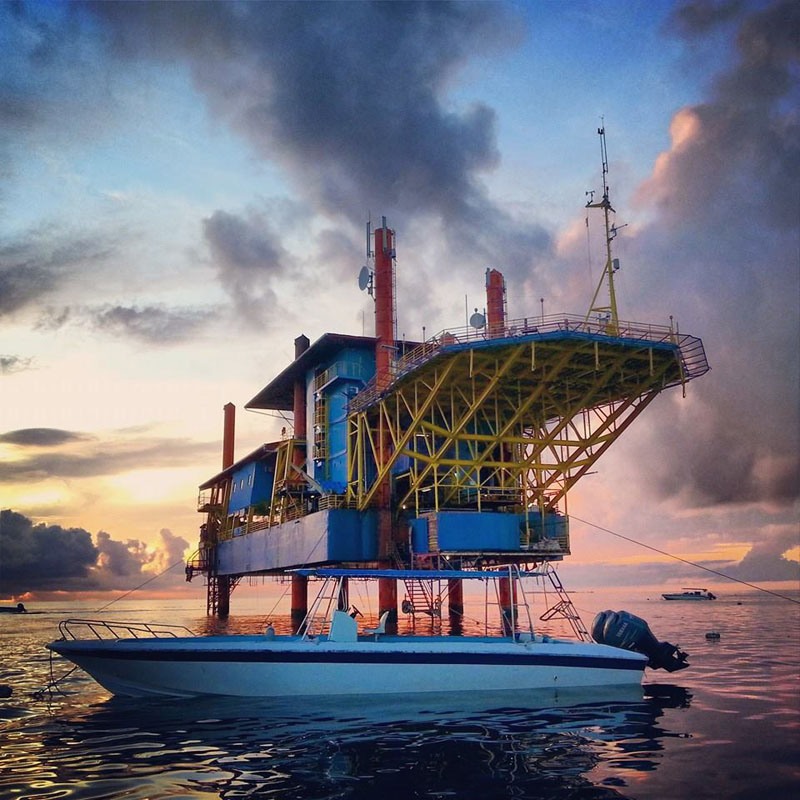 Not only was this an opportunity for something different, but also as something that embraced eco-tourism – there would be no need for chopping down trees or piling into the sea. It was a hotel that could be constructed without damaging marine life or upsetting the marine eco-system.
Originally it was to be a hotel geared towards fishing – the perfect opportunity to make the most of the teeming marine life that would thrive in the shelter of the six legs. With this in mind, the rig was refurbished in Labuan – however, it was a little ahead of its time — tourism was not quite ready for this kind of resort.
It was decided to relocate the rig to Mabul, close to Sipadan with the sole intention of providing divers with a base for one of the best dive sites in the world. The rig has been at its current location since 1997, where the structures and shelter have created a haven for fish – making it what it is today.