It doesn't get much better than diving in Sipadan and that makes it one of the best places in the world to really discover scuba diving. If you aren't sure what to expect and you just want to dip a toe in the water then the PADI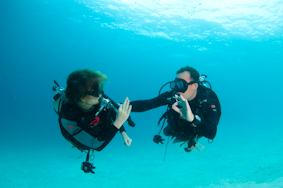 Discover Scuba Diver Course is perfect for you. You will be able to experience a taste of the underwater world under close supervision and then take it from there. We're pretty sure that having tried the Discover Scuba Diving course and in this setting, that you will be addicted after your first experience. If you want to go on from Discover Scuba Diving to the next level it's easy to take the first full PADI course and get yourself certified as an open water diver.
Whilst you won't actually get certified on this short course, you will learn how to use scuba equipment and get an idea of what to expect when exploring the underwater world.
You will learn how to move around with scuba diving gear, you will learn what it's like to breathe underwater and some basic skills and safety rules that will out you in good standing for your first scuba certification course when you do finally decide to take the plunge and the next step.
Prerequisites for this course are none.