One of PADI's most popular courses and one of the most popular courses run on the rig the PADI Enriched Air Diver course gives you plenty of benefits that help you to maximise your diving and get the most out of it and after all, we're all about maximising your diving. Seaventures is the ideal place to do this as it means when you do potter around on a house reef dive with your buddy, you get to spend even more time discovering the weird and wonderful critters under the rig, without the worry of exceeding your no-decompression time.
The PADI Enriched Air Diver course enables you to learn how to increase you no decompression dive time and that ultimately means more time underwater — especially when you are doing more than one dive and that's what makes it an ideal course to give priority to when you start to do more dives.
The Enriched Air Diver course will teach you the techniques for getting more dive time by using enriched air nitrox, the enriched air scuba diving equipment needed and the considerations that must be taken when using equipment specifically for nitrox — including nitrox tanks and how to manage your oxygen exposure and being able to tell what's in your scuba tank. You will also learn how to set your dive computer for use with nitrox.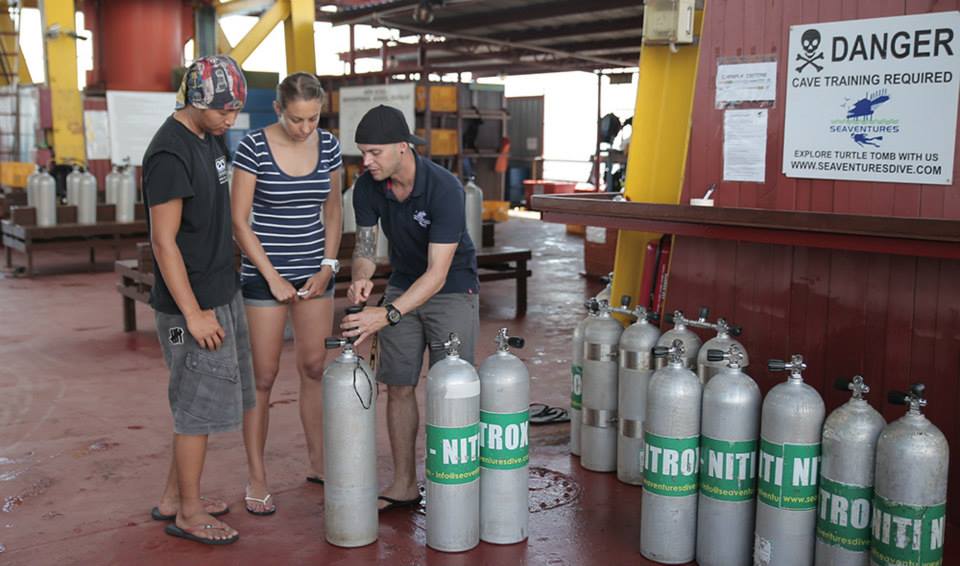 Contact us for more information on doing this specialty course with Seaventures Dive Rig.