The plight of the world's coral reefs is a hot topic and a much discussed one — you can help to make a difference to the current situation by championing the cause of one of the world's oldest and most fragile ecosystems. By becoming a PADI Project AWARE specialist you can learn about the aquatic ecosystem and how you can help to conserve it. Being so fragile, the more people who have an understanding of how they too can help, the better — so as a Project AWARE Specialist you can help to educate others in this extremely worthwhile cause.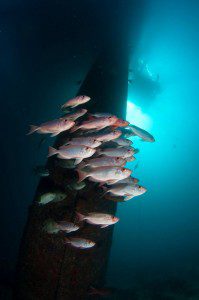 The most important thing about the PADI Project AWARE specialist course is that you will be learning how to put action behind the conservation words and actually make a difference. The Project AWARE Foundation is a leading nonprofit environmental organisation dedicated to conserving the aquatic environment through education, advocacy and action. You will become a part of the organisation once you complete the course and a dedicated member of the aquatic conservation cause.
The Project AWARE Specialist course will help you to learn about the common ocean and coastal zone issues, the fisheries challenges and sustainability and the coral environment and its inhabitants. You will also learn about your role as a scuba diver in protecting these aquatic environments.
Contact us for more information on doing this specialty course with Seaventures Dive Rig.