BE EXTRAORDINARY. Live the dream, and lead the way.
Taking the PADI Divemaster Course at Seaventures is the ultimate in maximising your hands on experience and perfecting your skills. It's not all about the theory with Seaventures Dive Rig — you will be a part of a busy dive centre and there will be plenty of opportunity to really get what you need out of the experience. To let off steam you will be able to do unlimited house reef diving (including night dives) throughout the course – just put your gear on and jump onto the lift to be lowered into the water.

This course will last 15 days and will cover water skills, stamina exercises and both classroom and independent study. You will put to the test your abilities to organise and solve problems and help others and improve their skills in real life situations! The busy dive centre means that you will experience first hand leading dives, briefings and diver problems.

The course is an intense but rewarding and will give you a great start as a professional PADI Divemaster.

Contact us for more information on signing up for the PADI Divemaster course with Seaventures Dive Rig.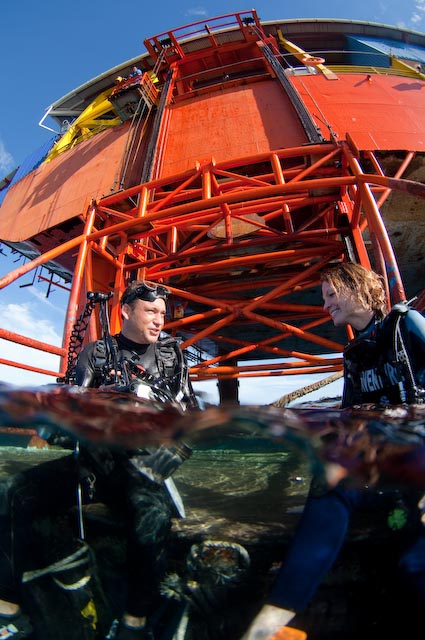 Course performance requirements:
Complete knowledge development segments including Knowledge Reviews in the PADI Divemaster Manual or through Divemaster Online, and pass the Divemaster Final Exam.

Create an Emergency Assistance Plan for a designated dive site.

Complete water skills exercises.

Complete a diver rescue assessment.

Complete the dive skills workshop and assessment.

Complete practical application skills.

Complete Divemaster-conducted programs workshops.

Complete practical assessments.

Meet the professionalism criteria.

Minimum 15 days stay to complete the course.

At time of certification, verify the candidate has:
• Logged at least 60 scuba dives including experience in night diving, deep diving and underwater navigation.
• Completed EFR Primary and Secondary Care training within 24 months.
• Read and agreed to the PADI Membership and License Agreements.