If you are interested in technical diving or even recreational diving, but learning more about how you can alter your set up to dive with more than one tank, then the PADI Sidemount course is for you.
There are two types of sidemount course — the technical approach and the recreational course.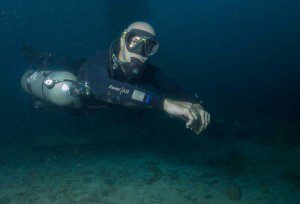 Recreational Sidemount Diver Course
There are plenty of reasons to take up the Recreational Sidemount Diver Course, and that isn't necessarily restricted to technical diving. Because you are able to move the cylinder from your back to your side, it instantly takes the pressure off your back and gives you more flexibility to move and enjoy your dive. Plus, you don't have to walk to the dive site with the cylinders on your back — you can enter the water, clip them on and go.
Sidemount diving offers:
An alternative way to streamline in the water
Easier equipment transportation when topside
Reduced lower back strain
Provides redundant gas supply
Ability to monitor all equipment because it's in front of you
Increased gas supply for longer dives
The duration of the course is between two to three days and consists of four dives. Your only pre-requisite for this course is that you are certified as a PADI Open Water Diver.
Technical Sidemount Diver Course
Tec Sidemount offers the same benefits as the PADI Sidemount Diver course but gives you the opportunity to dive with 2+ cylinders for extended dive times.
The Tec Sidemount Diver course is a great place to get started in technical diving because the skills you learn in this course will train you to handle multiple cylinders on a single dive. You can combine what you learn in the Tec Sidemount Diver course with other open-circuit tec courses that you take, or certifications you've already earned, to take advantage of sidemount's cylinder configuration and handling advantages.
The pre-requisites for this dive are that you need to be certified as a PADI Advanced Open Water Diver, have logged thirty or more dives and are at least eighteen years old. It is also strongly recommended that you have taken the PADI Nitrox Diver course.
Contact us for more information on booking any of the above courses and take your diving to the next level in one of the best places in the world to dive.