Kapalai is a resort on a sand spit with a number of artificial reefs which have been constructed around the resort. Sunken boats, huge metal frames, and structures created specifically to encourage the growth of corals all combine to create a thriving eco-system. Expect to see here the unmissable frogfish hiding and camouflaging themselves against the metal structures of the reefs.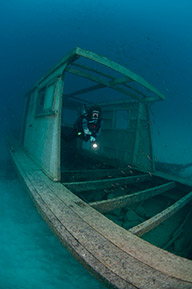 Home to all manner of weird and wonderful creatures and critters including ghost pipefish, giant grouper, scorpion leaf fish and many different types of nudibranches, this man made divers paradise is exciting enough to spend many a dive taking pictures and exploring. Don't restrict yourself to looking into the blue or across the sandy bottom, take time to explore the nooks and crannies of the artificial reefs and see what you can find.
There are daily boat dives going out to Kapalai – these are usually in the mornings to avoid strong currents and will be a part of a combination of Mabul Island and Kapalai dives. Extra boat dives are possible but this will be dependent on currents around the area.
Take a look at our Facebook and our Instagram account to see some of the pictures our divers are posting of their dives in Kapalai.