Famous for being one of the top dive sites in the world. Beautiful corals and abundant marine life such as green and hawksbill turtles, white tip and grey reef sharks, shoals of barracuda and jack fish will surround you on your dives. Sipadan Island boasts beautiful reef dives, wall dives that drop to 600 metres and enchanting swim throughs.
Permits for Sipadan and Boat Dives
Seaventures boats go out to Sipadan Island on a daily basis but make sure you book your trip early to avoid disappointment with permits. Permits need to be booked in advance and will be done so by the team when you confirm your stay. You must ensure you book a minimum of four days and three nights with Seaventures Dive Rig in order to guarantee your Sipadan permit for the trip.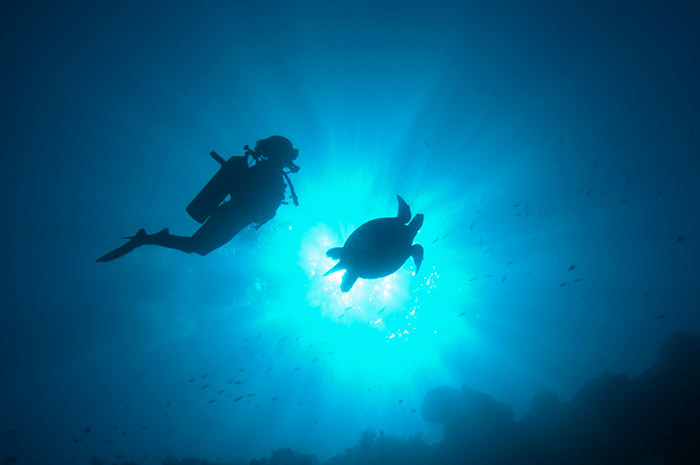 Seaventures go early to Sipadan Island leaving at 6am to catch the crazy looking bumphead parrotfish as they make their way across the reef. They wake up at Barracuda Point and make their way round to Mid Reef where they stop for breakfast – if you catch them on their way back you can hear them from miles munching at the corals.
Extra Boat Dives to Sipadan Island
The morning dive with Seaventures means you are up in time for a stunning sunrise and having already done three dives you are back in time for a hearty lunch. That means you will have most of the reef to yourself in the early morning which makes the diving relaxing and peaceful. There is an option to go back in the afternoon for an extra two boat dives but this needs to be booked with the office in advance. Or if you would prefer something a little closer to home you are welcome to explore the Seaventures House Reef and the nearby Mabul Island.
Take a look at our Facebook and Instagram pages to see the exciting marine life that our guests and staff have been spotting whilst on their dives to Sipadan.