It's undeniable that having a great house reef on hand is a major draw for many divers. A house reef that's just a step off the beach – or in our case, a step beneath, means unlimited diving whenever you want.
Not only is our House Reef just a step  off the Seaventures Dive Rig's lift, but it is also absolutely unique and the only one of its type on the planet! A renovated oil rig not only offers unique accommodation, it also offers a unique house reef. Divers can venture under the platform and marvel at the sub-structure of the rig that lays beneath the surface.
The site is a mixture of flat natural reef, man-made artificial structures (including the rigs sub-structure), and sandy bottom at a depth of between 12-16 meters. Did you know that we offer free and unlimited house reef diving included in all of our dive packages? Please note that house reef dives must be with a buddy.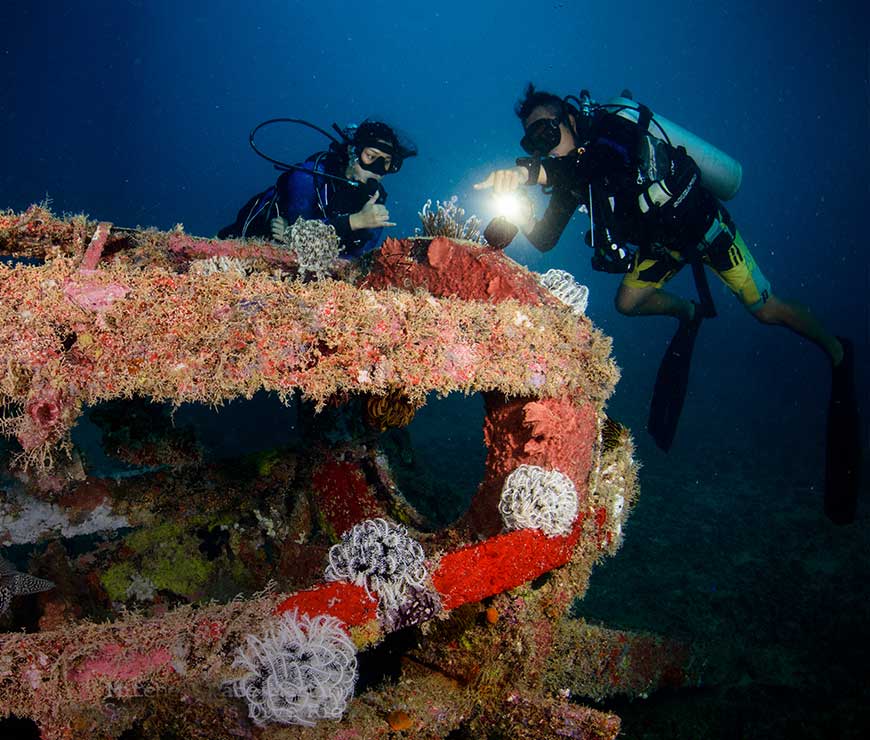 Unique Critters
Many of the rarest and most unusual critters on earth are found in South East Asia, and many of them like to hide out in shady areas where they feel safe and protected. So, where could be better than underneath an oil rig?
Once you start descending to the sandy bottom you are greeted by an abundance of fish life – this is certainly not a spartan site! There are dense schools of snappers, fusiliers, huge batfish, and bannerfish just waiting beneath.
The diversity of marine life found on our house reef is immense. There is not only an array of fish but also a wealth of critters and bottom dwellers too. Some of the common bottom dwellers we see include scorpionfish, crocodile fish and there is a plethora of different species of nudibranch (for more, see the photography section below).
Other highlights of diving the Seaventures Dive Rig house reef include huge groupers, various moray eels and from time to time we have passing sea turtles and reef sharks cruising through too!
A Macro Underwater Photographers Paradise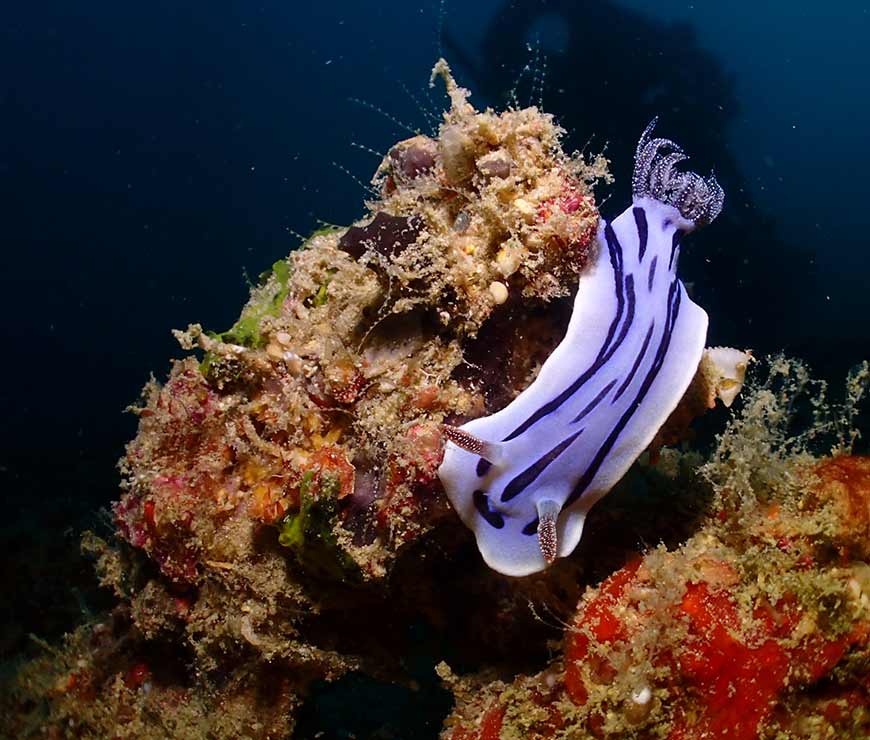 If you enjoy shooting macro then the Seaventures house reef is for you! For those with a keen eye it's possible to spot some of the most iconic macro critters on the planet. It's not unusual to find flamboyant cuttlefish, harlequin shrimp, painted frogfish, and ribbon eels. If those aren't enough for you, look a bit closer and you might just find hairy shrimp, pygmy squid, cuttlefish, and exquisitely decorated flatworms.
Every underwater photographer knows that the amount of time spent underwater is critical. More time means more images and allows for slowly and patiently approaching critters so as not to spook them. The shallow depth of the house reef means that your air lasts longer which results in longer bottom times!
Facilities for Underwater Photographers
For underwater photographers staying at Seaventures, our dive rig offers fresh water rinse tanks for underwater photography equipment (housings, strobes, trays etc), and we also have a camera room on board. The camera room is equipped with plenty of charging sockets and has work surface space for setting up equipment, cleaning and preparing.
Other House Reef Highlights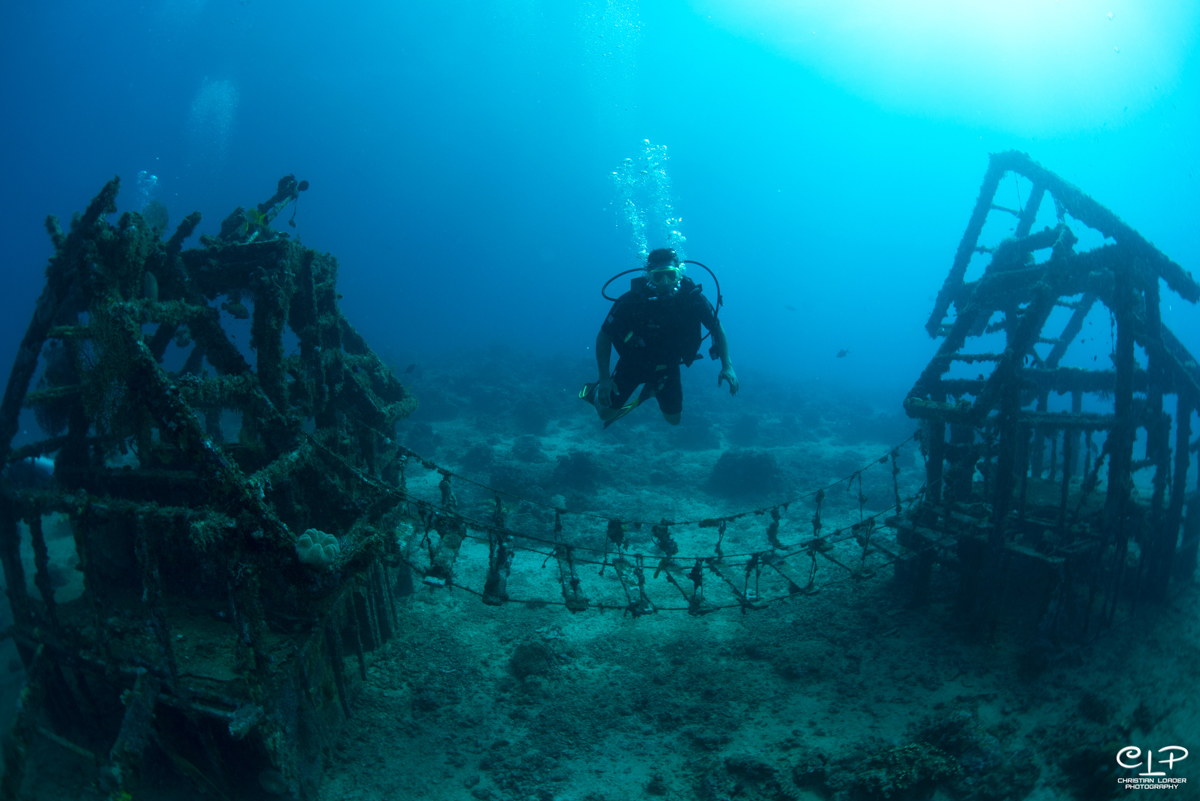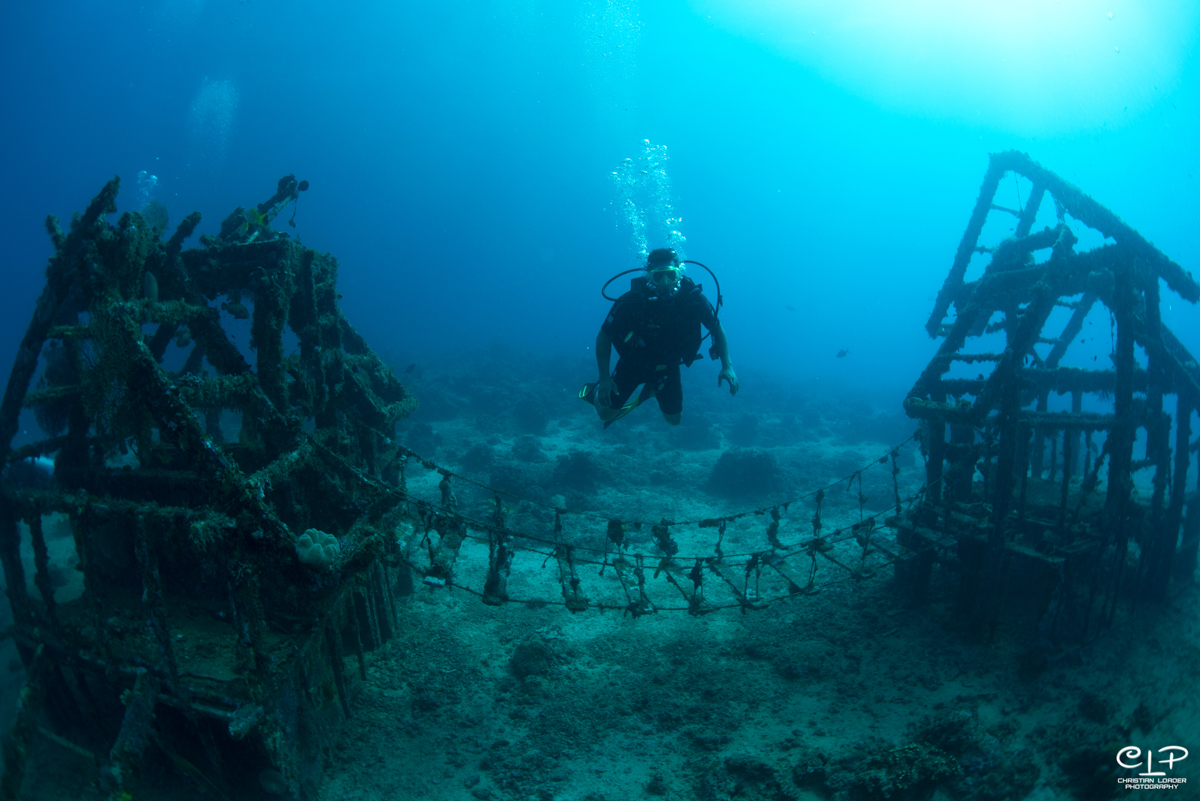 May we offer you a lift? That's right, entry to the house reef is via the rig's lift. The lift is a broad platform that lowers divers safely and comfortably down to the water – it's a totally unique way of starting your dives!
The House Reef also provides ideal training opportunities for those taking PADI courses with us, from the PADI Open Water Diver Course through to Cavern Diver Training underneath the rig!
Learn to Dive with Seaventures Oil Rig
Are you new to diving or have tried scuba diving and now want to get certified? Join us on the Seaventures Dive Rig and take the PADI Open Water Diver course – the first level of recreational diving certification. Once you complete your course you'll gain a lifelong certification that enables you to dive with a buddy to a maximum depth of 18 meters. Read more about taking the Open Water Diver course with us here.
Are you ready to book your next dive trip or PADI Course? Contact us today and let us help you to plan your next diving adventure in Malaysia