Life on the Rig 平台上的生活
As a diver, when you arrived at a resort it will be a dive, eat, sleep maybe some drink at the end of the day. To enjoy your 5 days 4 nights diving vacation. Is that all you want for you holidays?
作为一名潜水员,当你抵达度假村后,基本活动就是潜水,吃饭,睡觉也许在一天结束后喝点小酒,享受你的 5 天 4 晚潜水度假。难道这就是你想要的假期吗?
Have you ever wonder what Divemasters and Instructors do on their spare time on the Rig. Other than what we have to do daily which is guiding dives, teaching people how to dive. Here is a look on what we (dive professional) do which you can also do.
那您曾经想过潜水长和教练在平台上多余的时间在做些什么呢。除了那些,我们必须每天做的指导或教人怎样潜水。这就是我们 (潜水长和教练) 做的,你也可以做的一些事。
Walk on Mabul island在马布岛上逛一逛
Mabul island just less than 5 minute boat ride away (we have daily scheduled boat). There is no a mall or fancy store but there are some tiny stalls where we can get snacks, soft drink, coconut juice, souvenirs such as t-shirt or key chains. It is not necessary for you to have to buy something. Just have a walk aroundthe village nearby, you can watch how the Mabul local live. It is definitely a new to experience and different from what we have in the city.
我们在平台上但离岛少于 5 分钟船程,我们每天有固定时间的船到小岛。岛上没有大商场但在那里的小摊子上我们可以买的小吃,饮料,椰子汁,纪念品衣服、 钥匙扣等。不一定得买任何东西,只是随便看看,村庄就在附近,你可以自己体会当地人如何生活。体验新的和不一样的经验,与城市不同的生活。
This is how far it is Seaventures Dive Rig look like from the island, I'm standing on the island when I took this photo.
这是 Seaventures Dive Rig从岛上看起来差不多有多远,这张照片是我站在岛上拍的。
Upgrade yourself 我们有机会便提升自己
There is no limit when and what you can learn in diving. There is always something new and always find opportunities to improve yourself further. The same goes to us Divemasters and Instructors. Normally we just guide and teach recreational diving. Some specialty courses might add on spice in our life and new techniques from a new course can be applied in recreational diving which sometimes you find it easier and make more sense. I can not tell you how, just have to experience it yourself.
在潜水这行业是没有限制您何时或何地该学什么的。总是有新的东西和总是找机会让自己更上一层楼,身为潜水长和教练的我们也一样。通常我们只是指导和教休闲潜水。一些专长潜水课程可能会添加在我们生活的趣味,从新课程学到的新技巧可以用于休闲潜水,有时你会发现更容易和更有意义。我无法告诉你如何,您得亲身去体验。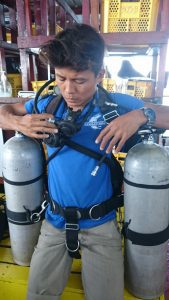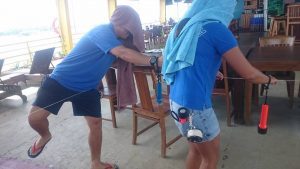 Our Divemaster Mitchell doing Sidemount course. Me, Ching Ching and Mitch doing cavern course.
我们的潜水长Mitchell在做侧挂潜水课程。我,Ching Ching和Mitch学习洞穴潜水课程。
Do not miss the sunset or sunrise 不要错过日出或日落时
These are every day things we see but sometimes when the sky is happy, it can blow your mind. We always have a drink together on the sundeck and watch the sky to turn gold.
这是你每天可以看到的,但有时当天空高兴时它会让你大吃一惊。我们总是聚在一起喝一杯,坐在天台看着天空变成黄金。
Sunset on regular days and we are all there to have a drink and wait until is dark together. Sometimes there are night when the sky can kind of glow in the dark.
夕阳时刻,我们聚在一起喝一杯一起等到天黑黑。在特别的日子,天空也会在黑暗中发光。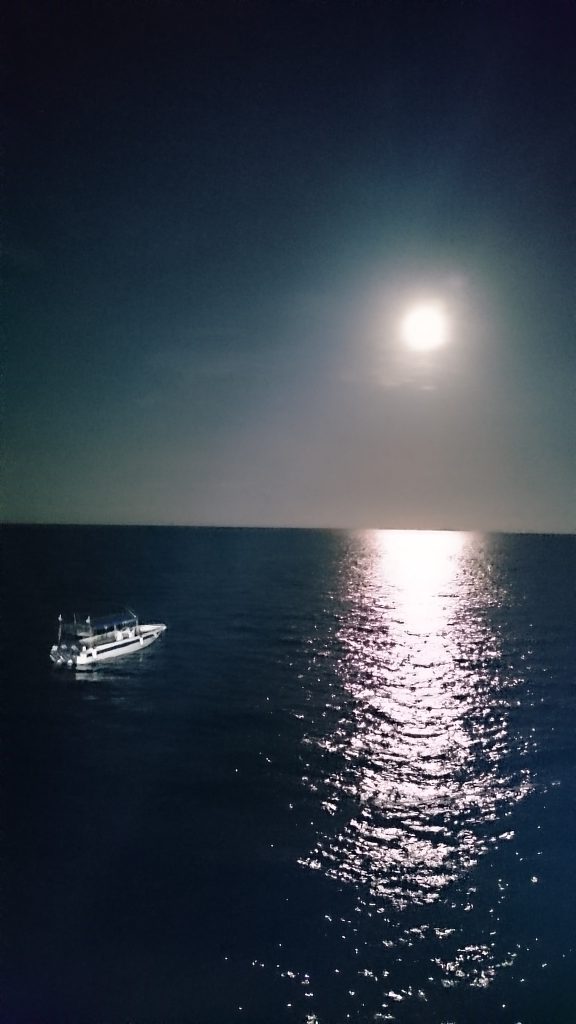 Be creative sometimes 有创意的时候
I like go fun dives without guests when I am free with another divemaster or instructor. So this is what we do underwater and what we do when we are not underwater.
当没有客人时,我喜欢与另一个潜水长或教练去潜水。这是我们水下做的事请和我们没有下水做的事情。
Underwater profile picture for social media to show how cool we are ;). Graffiti on our diving equipment with marine life we love is a cool way to accessorize too.
为所有社交网站所拍的水下的头像,以显示我们是如何之酷。在潜水设备上涂鸦我们所爱的海洋生物。