The Seaventures Rig Diver Specialty Certification
Did you know that we have created a PADI approved Distinctive Specialty Course that divers can take when they join us on the rig? Diving from, and under, the rig offers some unique diving opportunities – so why not create a specialty course and share it with others?!
The Seaventures Rig Diver Specialty was created to familiarise divers with the skills, knowledge, planning, organisation, procedures, techniques, problems, hazards and enjoyment of RIG diving. Just like all PADI Courses, the Rig Diver Specialty includes a knowledge development component as well as open water dives. In this case, there are two open water dives which take place under the rig. Let's take a look at the knowledge development component first…
Knowledge Development
The knowledge development for the rig diver specialty is fascinating and includes learning about the history of the rig, where it came from, and how and why it became a diving resort in Mabul!
A short History: The rig was towed and used as an oil rig in multiple destinations before being decommissioned in 1985. An ex Minister of Sabah saw potential to create something fresh with the rig – not only was this an opportunity for something different, but also as something that embraced eco-tourism – there would be no need for chopping down trees or piling into the sea. It was a hotel that could be constructed without damaging marine life or upsetting the marine eco-system. The rig was refurbished, but it was not until 1997 when the rig was relocated to Mabul, where it stands today.
As well as the history of the rig, you'll learn about the environmental aspects associated with the rig, you'll review underwater compass navigation and be introduced to the Seaventures dive rig map. The rig has six pillars which are numbered on the map and it's important to learn how this translates when navigating underwater. There are also several points of interest underneath the rig which are also included on the map and you'll be challenged to find them underwater – it's a lot of fun! Finally, before making your open water dives, you'll learn the special procedures that are in place for using the hydraulic lift system – a totally unique way for divers getting into the water!
Rig Diver Specialty Open Water Dive 1
Together with your Rig Diver Specialty Instructor you'll plan your dive before heading over to the lift to make your first hydraulic lift entry!
Once you have descended (the maximum depth under the rig is between 14 and 16 meters), you'll use the knowledge you learnt earlier to navigate to each of the six pillars, and navigate from two of the pillars back to the descent line. You'll also attempt to locate one of the points of interest. While you are carrying out your navigation you'll also be surrounded by our impressive array of resident marine life! At the end of your skills, there's time to explore and hunt for critters before we head back to the hydraulic lift for your first life exit!
Rig Diver Specialty Open Water Dive 2
Once again you will plan your rig dive with your PADI Rig Diver Specialty Instructor before making your entry using the hydraulic rig lift. Now that you have a deeper knowledge of the layout beneath the rig, you'll find four more of the points of interest surrounding the six pillars of the rig, as well as navigating from one of the points of interest back to the ascent line.
Providing you have enough air remaining, there will also be the chase to fun dive again before heading back to the lift to make your final ascent and exit.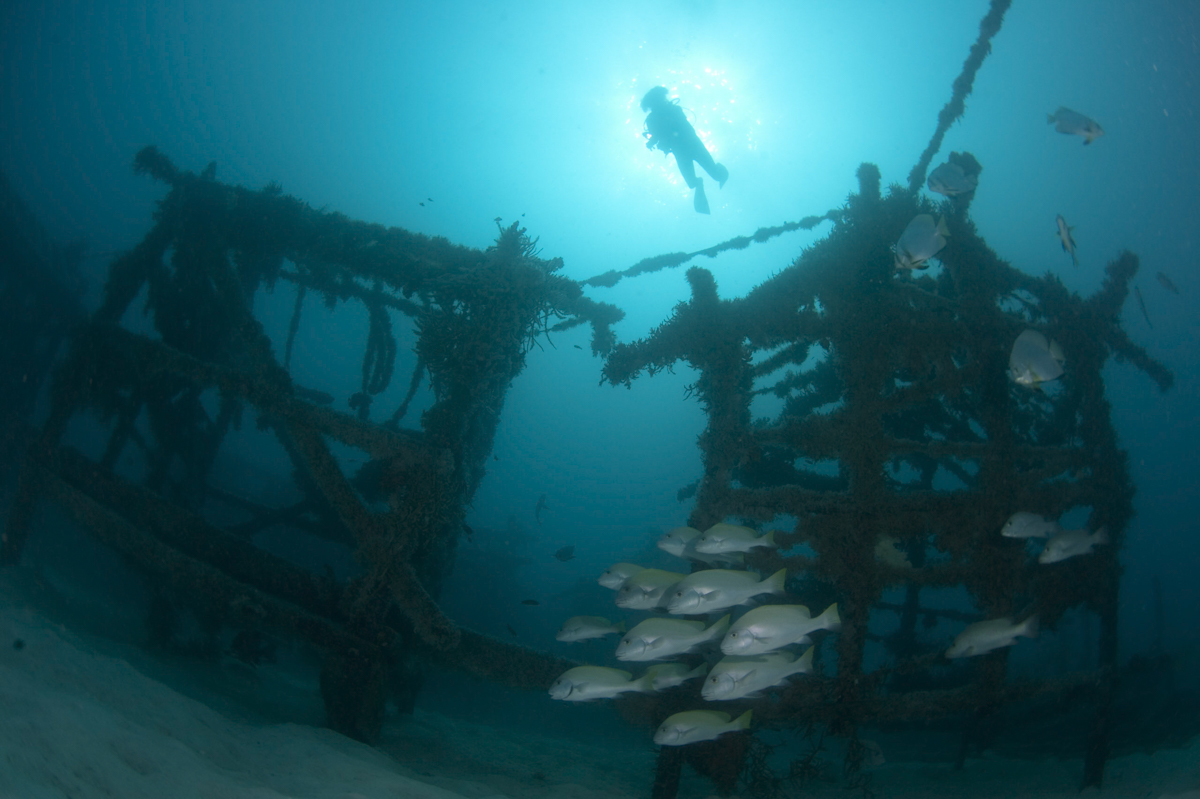 Congratulations – you are a certified PADI Rig Diver! It's time to celebrate!!
Who Can Take the Rig Diver Specialty?
Providing you are a certified Open Water Diver and aged at least 12 years, you can sign up for the PADI Rig Diver Specialty!
What are the Benefits of Taking the Rig Specialty?
Not only is this a completely unique specialty diver course – the only one of its kind on earth, you'll learn skills that can be applied to multiple diving scenarios. You'll improve your underwater navigation skills, including compass use. You'll also develop additional confidence as a diver while seeing incredible marine life!
Dive into Seaventures Dive Rig Vibes:
While we do love to get serious about developing new dive skills and all things rig related, we love to share this knowledge and our spectacular dive sites – AND have fun! Join us on the Seaventures Dive Rig and experience next level diving, great dining, and our vibrant atmosphere!
Are you planning your next dive trip? Are you interested in taking the PADI Rig Diver Specialty Course? Get in touch with us to make a reservation for your next dives here in Malaysia: info@seaventuresdive.com
Not yet a certified scuba diver? No problem! Join us for the PADI Open Water Diver Course, get certified to dive to 18 meters, and make four incredible dives in the ocean with us!