PADI Advanced Open Water Diver Course
To what depth do you want to take your adventure?
The PADI Advanced Open Water Diver course is the next step in continuing your education in scuba diving. Under the guidance of Seaventures Dive Rig's PADI pro, the course builds your confidence, skills and experience to equip you better on your scuba diving adventure.
The two full day course teaches you five new skills. With two of the compulsory adventures dives being underwater navigation and deep diving. You may select three other adventure dives to complete your PADI Advanced Open Water Diver Course.
The course begins with reading the manual on the adventure dives you will do. Theory and knowledge review can be also be done in advance, to save time from studying so that you can focus on diving. The scuba diving course will take place around Mabul island or Kapalai dive sites and Sipadan* for your deep dive.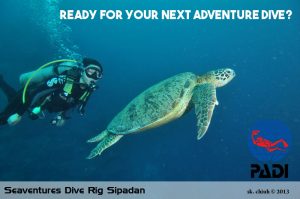 Peak performance buoyancy, night diver, underwater photography and wreck diver are some of the popular adventure dives. There are of course other adventure dives you can choose and do when you are with us. See here for more options.
One of the perks when you choose to enroll in the Advanced Open Water diver course with Seaventures Dive Rig is the guaranteed Sipadan diving permit. Imagine diving deeper into one of the world's best diving spot and seeing marine life such as hammerheads at 20 meters, or maybe rays at 25 meters**. You will of course not dive more than the certification depth limit of 30 meters.
Why take the PADI Advance Open Water Diver course?
The more you dive, you will gain awareness on the importance of being a skilled diver. This is especially true when you start planning on diving holiday away from your regular spot.
One of the many important things to be taken into consideration when planning your diving holiday is the location. Knowing the type of marine life you are going to be seeing, whether it will be small fish or maybe whale shark. Most importantly, will you be able to dive the sites with your level of experience? Do you need to have certain dive experience? Also, divers need to be a minimum Advanced Open Water certified to do night dive. As above, some dive sites on Sipadan are best to dive after the 20 meter mark.
Area you ready for your adventure? Email us at info@seaventuresdive.com. Minimum days stay to complete the course would be 3 nights with a guaranteed Sipadan. During the course, dive equipment use is free of charge.
*Subject to change without prior notice. **Marine life mentioned, sightings are not guaranteed