Hello everyone, my name is Natalie and I have just recently joined the Seaventures dive team as a Divemaster. Shortly after graduating with a degree in Marine Science in Australia, I landed myself a science internship with TRACC. I spent most of my diving adventures on Pom Pom Island with TRACC. Through TRACC, I was able to gain lots of experience in guiding and leading dives in fish and invertebrate surveys. Besides restoring coral reefs and doing conservation work at TRACC, I was given an opportunity to make a media appearance in Discovery Channel by representing TRACC and Shark Stewards in raising awareness about coral rehabilitation and shark protection. After having such a great experience during my internship with TRACC, I decided to do my Divemaster at TRACC as well. During that time, I continue to learn about conservation and how to be a Divemaster.

I am really thankful that I was given this opportunity to be part of the Seaventures dive team. The rig crew has been very nice and helpful. I am truly grateful for all the help and encouragement I am getting. It is definitely a very unique dive resort. When I first arrived, I was so excited to know there won't be any centipedes, mosquitoes and sand flies like how you will get them if you are on an island! Besides having no annoying pest, I was really blown away by how much life there is here under the rig, in Mabul, and in Sipadan. From the tiniest Chromodoris nudibranch to the biggest grey sharks. My happiest moment here so far is seeing a group of dolphins happily breaching.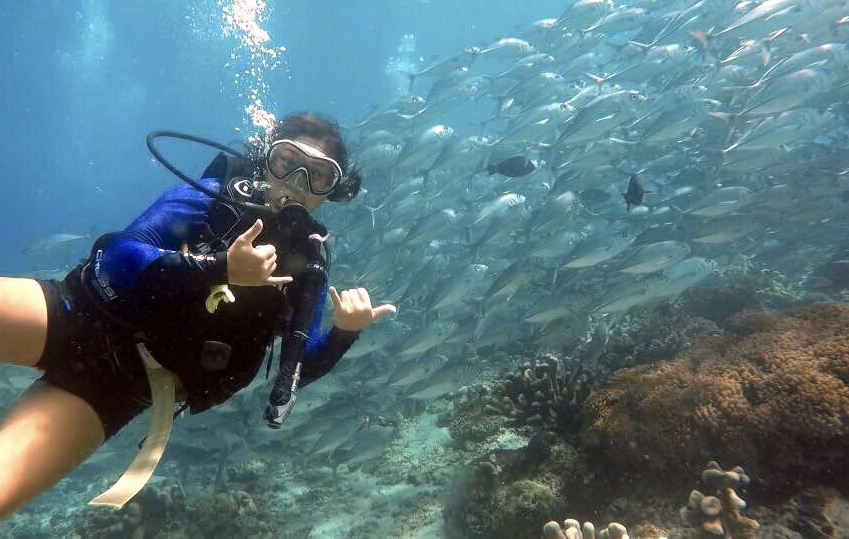 I really love diving and I have a passion for marine conservation. When I bring new divers out for diving, I sincerely hope that from my passion for diving and marine conservation, it will inspire them to love and protect the ocean. It has been a great one month so far. I am still utterly grateful for the opportunity to dive here and how kind the rig crew has been. I look forward to have more wonderful experience here at Seaventures Dive Rig Sipadan.