Apart from diving the excellent food is what Seaventures is known for in the area. You will never go hungry with the array of food prepared for you. We served good food, buffet-style and though it is mostly just simple food, we have been told numerous times that the food served is delicious.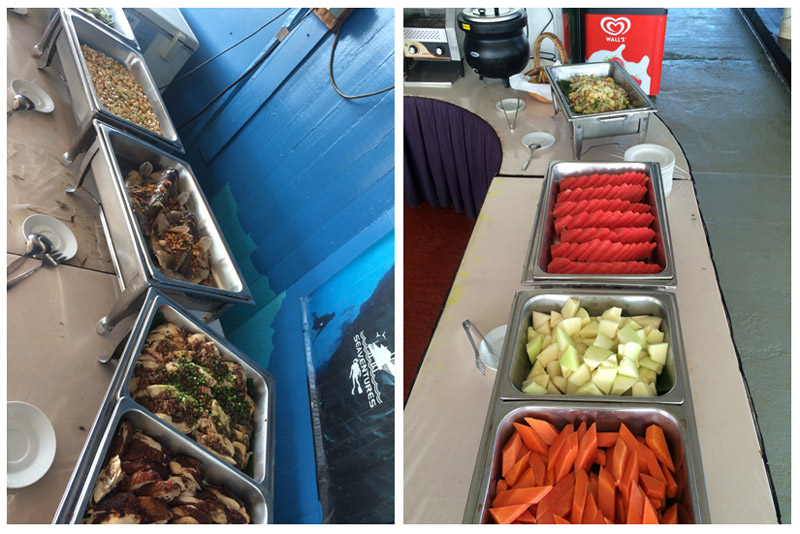 We offer free flow coffee and tea, and also a dessert chiller which is available to you throughout the day at the main deck area. If you are in the need for stronger coffee, you can order an espresso from the bar at a reasonable price.
Breakfast is served at 7am and there is an egg station to have eggs prepared to your liking. Those that leave for Sipadan earlier do not go hungry either. There is packed food prepared by the kitchen for your surface intervals even when you are in Sipadan, away from the Rig. We know how hungry we can get after each dive.
You will hear the gong around 12 noon which marks the time to feast for lunch. Usually it will be Chinese-style cooking. Tea break will give you some nice freshly baked goodies or maybe that savoury fried banana fritter you are craving to warm you up after your last dive of the day.

Dinner is served at 7pm, and this is the perfect time to socialise with the other guests on board and make new friends. Sometimes there will be barbeque nights arranged. If you are staying for a longer period, you will most likely get to be entertained by Seaventures' live band or at the least, by our most experienced Divemaster, Mando.
We can't promise you fancy food, but don't be surprised if you go home gaining a kilo or two after your stay with us.