We knew we wanted to go to Sipadan. We knew the high end resorts were out of our league, price-wise. Researcher that I am, I think I looked at every single option. To dive Sipadan, most people stay on Mabul Island. The only other island near to the Sipadan dive sites is Kapalai, but the only resort there is fancy with a price to match. On Mabul Island, many resorts vie for the diver's dollar. Sipadan is so popular, that it is almost essential to book in advance. Of course, we didn't, at least not by much. So, the first option we wanted = unavailable. The second option = unavailable. The third budget option = sounded completely horrifying.
I continued our search. I remembered Leslie, a friend we met in the Philippines, mentioning this cool dive "rig" she stayed on – Seaventures. I decided to check it out. It certainly costs more than the budget operations, but the online reviews glowed with praise from happy divers. Plus, it seemed like a unique experience.
I contacted Seaventures, and they confirmed they could guarantee us Sipadan permits, and the price wasn't THAT much. Well, it is the single most expensive thing we have done on our entire trip, so it wasn't that small either. I was thrilled to have found an option that didn't sound horrifying that got us under the water at Sipadan.
As we pulled up to the rig after our thirty minute boat ride from Semporna (provided by Seaventures – could not be easier!), the resort rose from the ocean like a giant multicolored playland, for adults. A stack of repurposed shipping containers make up the lodging section, balanced on two huge platforms atop six huge columns that plunge into the water, lapped by gentle ocean waves.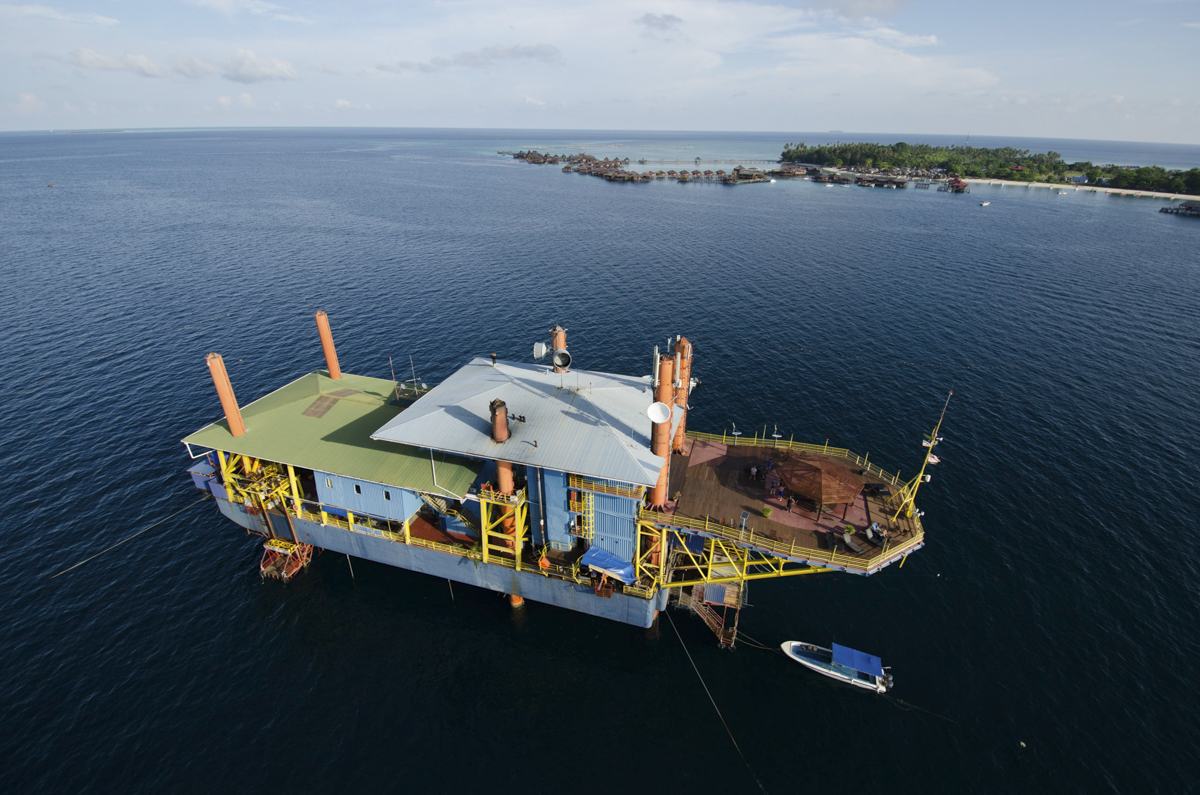 After the boat driver expertly pulled the boat up, we watched a large wooden platform with two sides lower to the ocean level. After the boat evened up with the platform, we stepped from the boat onto the wooden platform that serves as the elevator from the ocean level up to the rig. As we stared up about fifty feet to the surface level of the deck, the platform jolted into motion and started to lift. We watched the gentle ocean disappear below us as we glided upwards.
As our eyes peered over the edge of the platform making up the main level of the rig, we saw several staff members waiting for us with a welcome drink of what we would call "yellow" by the end of our time, served in a wine glass. (It was a gatorade-like drink available all the time at the water/coffee/hot chocolate/tea station). They warmly greeted us and we were ushered to a table on the main deck area. The main deck offered plenty of tables and chairs for meals and relaxing – often spent discussing the most recent dive and reviewing underwater photos.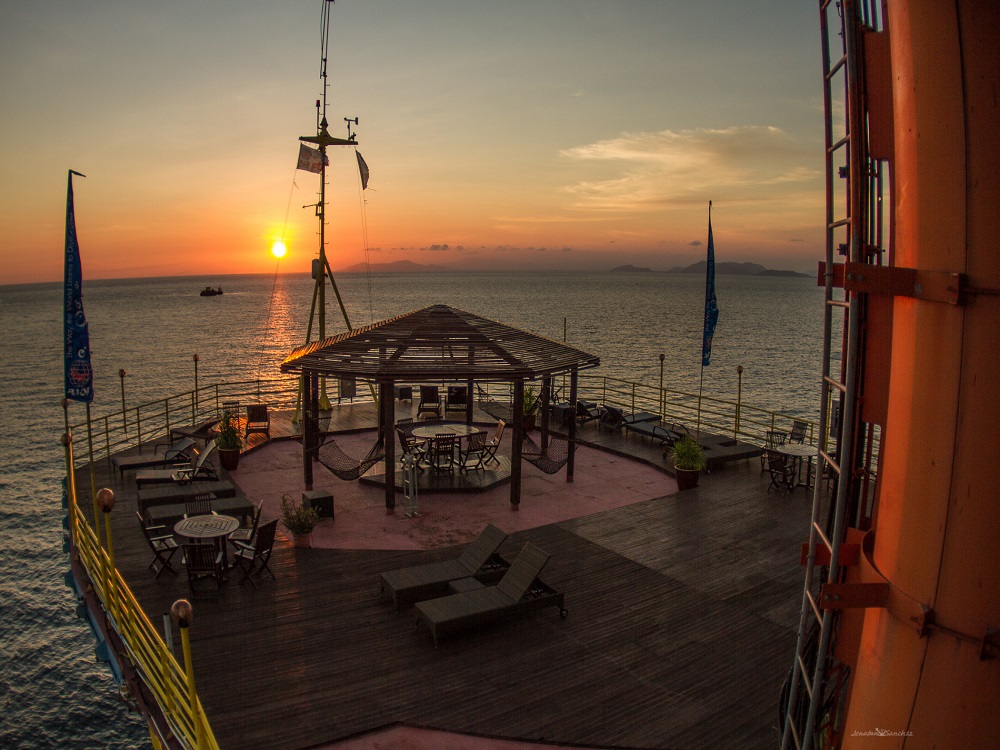 After several minutes ooh-ing and ahh-ing over how cool the rig was, how great the views were from every side, and just generally how excited we were (like little kids!), Lady Lauren (nicknamed Lady Gaga) helped us complete our paperwork. Our bags were whisked off to our room, and we were presented with our key. We went to immediately change into our suits to head out for our orientation dive on the house reef. We had to set up our dive gear, strap it on, and ride the elevator back down.
When I learned to dive, our instructor covered three methods of entering the water for a dive: shore, backroll, and giant stride. I now know a fourth. Another cool feature – the elevator lowers completely into the water, so you can just swim out from the elevator once the platform is low enough. It lowers into the water again at the end of the dive and you just swim back above it and wait for it to pick you up.
A divemaster led us on our orientation dive around the base of the rig, showing us the various sunken boats and pillars we could use for navigation. We could dive the house reef anytime we wanted – just grab the gear and head on down the elevator. The first dive was fun – lots of fish.
We finished the dive, swam back onto the elevator platform submerged in the water, and headed back up. A delicious spread of buffet lunch awaited us. All meals are included, and the food was delicious every day. Every buffet had seafood – amazing, fresh, locally caught seafood from a local fisherman who drove his boat up to the resort and sold his daily catch to us. Yum. One night there was a huge tray of the freshest tuna sashimi I've ever eaten. Amazing. There is a bar, with cans of Tiger beer and wine. At 4 PM every day, the staff served what they called "high tea". Which consisted of : make yourself a cup of tea, and grab a snack – ranging from tasty pig-in-a-blanket Malaysian style to fried bananas and all sorts of other non-tea like snacks. Sit down in your swimsuit, which you are inevitably wearing, and enjoy a casual afternoon snack.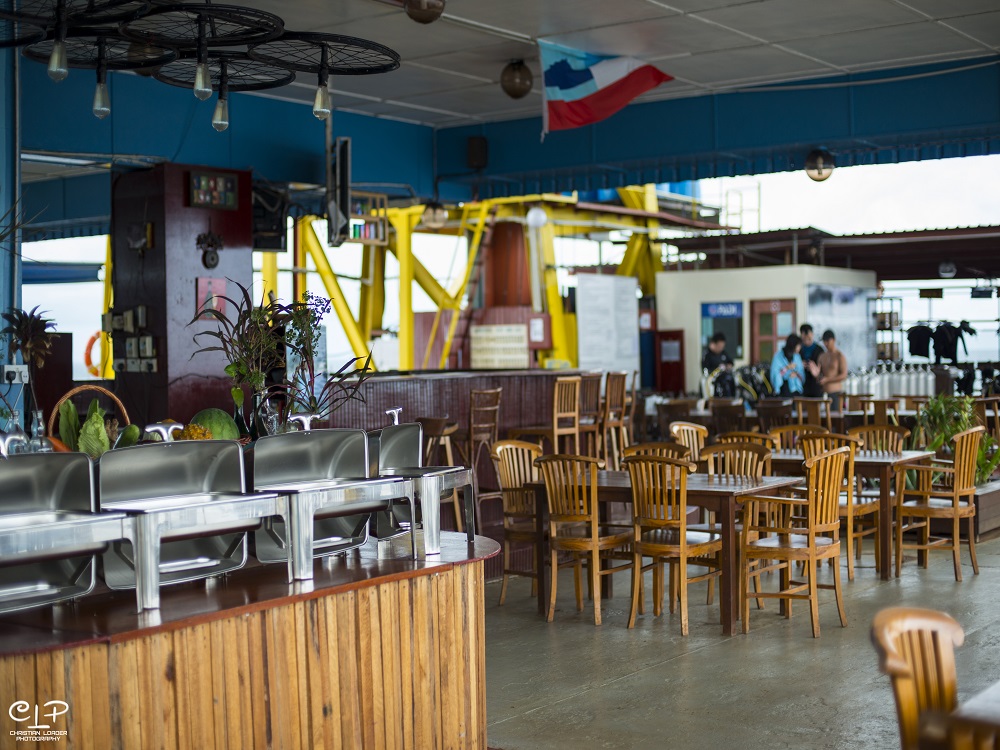 Anyway, after our first lunch, we stayed in our swimsuits because we were heading out for our afternoon dive. We dove a site between the rig and the island, and we saw something I've never seen before – lots and lots and LOTS of turtles. Swimming turtles, resting turtles, even turtles pulling up to a good rock for a neck scratch – it was awesome. I love turtles! This dive was a "lazy" dive, where the staff sets up and loads all your gear on the boat for you. You just get on the boat. When you arrive at the dive site, the staff carry the gear to you. You put it on and flop into the water. So easy!
I think the dive rig is my perfect beach – sun deck if you want sun, covered lounge / bar / food area if you want any of those things, and NO SAND! You can ride the elevator down to the ocean below anytime you want to swim, snorkel, or dive the house reef. Because the elevator does not have a front railing, adventurous souls can also ride down part way and take a high jump into the ocean floor below.
We spent our next three days diving all day and eating. There was a room with a ping pong table and a pool table. There was a karaoke room. We never even went into either one. Diving wore us out every day so that we were ready to crawl into bed well before 9 PM to get up early the next day and do it all over again.
Everyone at the resort was incredibly friendly. Tommy and I poured over the fish books every day, possibly doubling the number of fish we can recognize by sight and know by name. We enjoyed relaxing on deck and sleeping in our comfy private room. It was our first true dive resort experience, and I think we set the bar high. I hope there are many many more, even if they are on land instead of a rig.