Seeing Sipadan from a whole new perspective – Into the Cave
Whether you are a regular newcomer to our wonderful game of scuba diving or a seasoned veteran, we all remember the very first time that we took that regulator into our mouths, bit down gently on the mouthpiece and submerged under the surface.
The feeling of entering a whole new world, of seeing things in a perspective that you have never experienced before, of really and truly feeling at one with nature.
The sheer thrill of being underwater… that weightless feeling, of being in total control and in a "zen-like state" relaxed and unburdened from all of life's trouble and turmoil. No phones ringing. No emails to answer. Nobody knocking on your door. Awesome….
But there is the thrill also right? We are all thrill-seekers at heart, and we as scuba divers are thrill seekers for sure. But for us it is not so much the thrill, it is more about the beauty of the underwater realm. We are explorers and pioneers, with the potential to explore where very few people have gone before.
Whether you have risen up through the worlds largest recreational scuba agency, namely PADI or through one of many other recognized training facilitators, once you have reached the level of Advanced Diver, many more doors open to you and you effectively start to look for your specialism or niche in scuba diving.
For some it is the thrill of photography. They become PADI Digital Underwater Photography Specialists in their own right after the doing the specialty course, go and buy their first set of underwater camera gear and start their own adventure. Whether it be nudibranchia and macro or sharks and manta, an underwater photographer will be a happy bean as they hone their skills.
For others it may be the realm of the deep that calls them. With a desire to go a little bit further than the PADI Advanced Diver 30m limit, the PADI Deep Diver Specialty educates you in redundant air supply and managing gas consumption as well as earning you that all important accreditation to dive to 40metres. Many who take this course then go on to the affiliated TecRec courses, which is another blog all by itself!
For some of us however, it is the world of dark holes, of international mystery and intrigue of the worlds most beautiful cave systems that draws our attention.  This is our world. This is the world of the PADI Cavern Diver Specialist.
At the Seaventures Dive Rig, we are one of only very few operators in the region who offer the exciting PADI Cavern Diver Specialty, and if you are diving on the Sipadan with us, this is an opportunity not to be missed.
At the dive site to which we affectionately call "The Drop Off" at the Sipadan, as we descend past the school of vortexing jacks at the top of the reef amongst the white tip reef sharks, we head down to around 18m along the wall on our right side.
Suddenly, we notice large opening start to emerge in the face of the wall. This is the doorway into a brave new world. It looks intriguing and you are drawn into the darkness beyond, almost mesmerised by what is inside.
You peer you head inside the cave and you see a sign at the very entrance, weighted down with two tattered bouys keeping the sign upright for all to see.
You look closely at the sign, "STOP! You needed training to dive. You need cave training and cave equipment to cave dive. Do not go beyond this point". Your heart sinks…. Now you REALLY want to know what is past that sign….
The instructor leads you away from the cave and you continue your dive along the wall of the drop off, but that cave stays in the back of your mind, eating away at your curiosity. But remember that all important saying, "curiosity killed the cat" and yeh, for sure you want to go and explore but you want to do it safely.
So when you surface, you make it a point to speak to your instructor Jonathon about it and are excited to hear that he is a PADI Cavern Instructor, and even better, he can teach you to dive that cave, safely, securely and with fun – the PADI way.
So the following day, you have signed up for the PADI Cavern Specialty course and this is where the magic really starts to happen.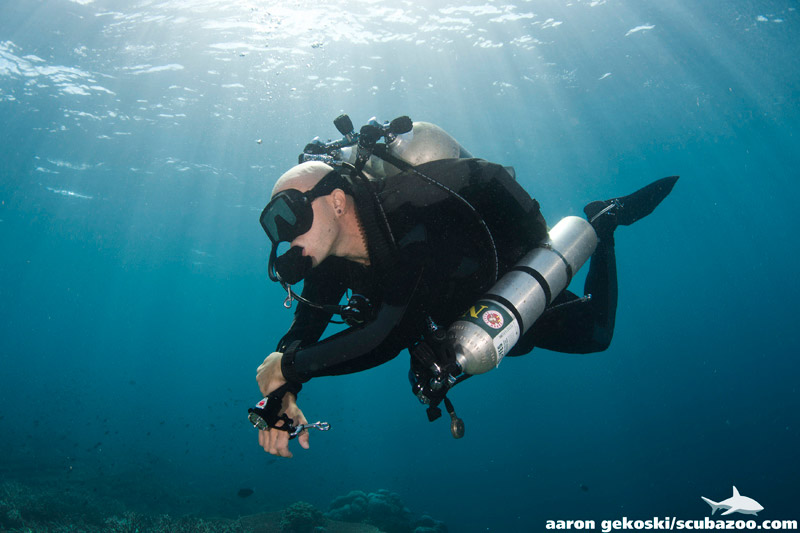 Whilst there is no manual to read like some of your previous courses, you will find that this course consisting of 4 dives is more practical based.
You are already an experienced diver. We don't need to teach you how to clear your mask or do the perfect neutral buoyancy hover. You can already do that.
What we are going to teach you is how to push your personal boundaries, safely and under the guidance of your personal PADI Instructor.
One of the first things that we teach you is about light management and "reel work". Believe us when we say that you will become masters of this by the end of the course. Handling spools of line is great fun and we practice this thoroughly in an "open water environment" before we go into the cave.
We also teach you cavern basics such as emergency procedures, avoiding disorientation and gas management. Essential parts of your journey to become a PADI Cavern Diver
After these initial training dives you are ready for your first dive into the cave at the Sipadan.
What do we know about the Sipadan cave? Well, call us biased, but one thing is certain….it is beautiful, and is one of only a handful of caves like it in the world.
Known locally by us as "Turtle Tomb" we can tell you that when the cave was first discovered many years ago, just past the light zone of the cave, we found the skeletons of many turtles. Nobody really knows how they got there however.
One school of thought is that the turtles swim inside the cave and then get lost. With an inability to find their way out of the cave and being reliant on occasionally taking a breath of air, they drown.
Another school of thought, and one which more and more of us subscribe to is that some turtles, when they know they are unwell, go to the cave to die – sort of like a final, peaceful and tranquil resting place. Quite poetic….
So you kit-up with Jonatan as your instructor and descend down to the mouth of the cave and expertly (with newly discovered skills of line laying) begin to reel into the cave.
Gently flutter kicking along the line which you are running, all is at peace, with just the sound of your exhaust bubbles in the background and your focus in the torch beam ahead, this really is like being on another planet.
Decades of water in the cave have created some of the most unique rock formations that you would have ever seen as you will pass by fish who spend their lives in the dark, their scales being lit up like a Christmas tree in the light of your torch.
You would have been trained to stay away from the silt-like floor of the cave, as silt and disorientation in the cave is not good. So with pure concentration at mind in a sense of total relaxation you will feel like astronouts setting foot on a planet never touched before. A purely magical place.
Time always goes by when you are having fun and before you know it you will have reached a third of our air supply, so then begin to retrace your steps (or fin-kicks), back across the line, retrieving it as you go, until reaching the mouth of the cave once more.
It is, simply put one of the most amazing dives that you would have done – guaranteed. You will feel a real sense of achievement ascending to your safety stop, and eventually deploying your DSMB for the waiting boatman, signaling the end of a truly memorable dive.
Whilst Seaventures offer the full range of courses, another one of our most popular courses and one, which ties in very well with the PADI Cavern course is the PADI Enriched Air Specialty Course.
Enriched Air (or Nitrox as it is more commonly known) is a mixture of gasses with a higher percentage of oxygen in it that conventional compressed air, meaning that we can stay down longer and thus reduce the risks of decompression sickness.
Stay longer doing something that you love? Sounds like a win-win situation to us and therefore it is no surprise that it is one of our most popular courses here at the rig.
Whilst our Enriched Air Course is carried out in one day, we carry out the PADI Cavern Specialty in two days, so this package is perfect for those staying with us for the very popular 3-night adventure.
Our PADI Cavern Specialty includes all equipment hire and PADI certification at just RM1500.00 with the Enriched Air Course being RM750.00.
However, if you choose the special combo deal, we will carry out these 2 incredible courses at just RM2000.00 for them both.
Contact the sales team at Seaventures for more information on how we can help you take your scuba adventures to a new level.
In the meantime, look out for our next blog news coming soon where we ask you "would you like a bit on the side?" – yes, we are going to be talking about our latest "PADI Sidemount Course"
Thanks for popping in.