100 Days Clean Up – The Last Day
It's done. 100 days of clean up are over and our team managed to accomplish the unbelievable. Within 100 days of daily clean up dives on our house reef we fished out 924.4kg of debris.
Over the 100 days we had 126 groups that went for a clean up dive, the largest one with 9 participants, the smallest one with only one Tec Diver. All together we had 346 divers in the water that picked up an average of 7.3kg of debris per dive and an average of 9.24kg per day. And curious things we found: bras, toys, kitchen sinks, piles of lumber, bicycle parts (no roads within a 45 minute boat ride), countless T-shirts and pants, more underwear than we liked to see, roller brushes and hand mirrors, toothpaste, diapers and carpets, bed sheets and pillow cases. The list is endlessly long and sometimes we just could shake our heads about all that weird stuff. Unbeaten number one debris to be fished out were the plastics: bottles, food wrappers, fragments and countless pieces of dishes didn't make for that much weight but summed up to massive numbers.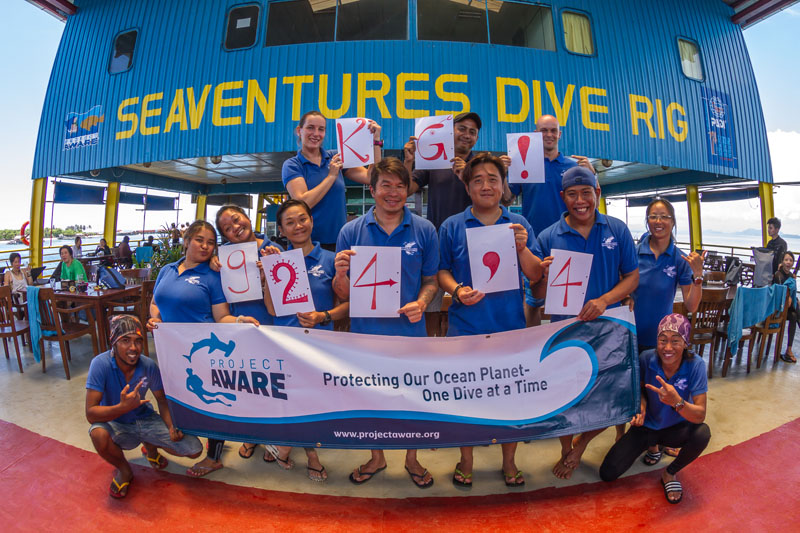 Our heaviest dive was 29.6kg while our lightest was 200g. Much of the weight came from countless glass bottles (beer was the favourite here), glass fragments, beverage cans (beer being here the winner as well) and metal fragments (mainly construction material) and many pieces of cloth fragments.
Our shortest dive was 26 minutes long, while our longest Team stayed down there for 76 minutes. In total all teams spend together 5753 minutes while hunting for garbage. That is an astonishing 95 hours and 53 minutes underwater, dedicated to the fight against marine debris.
There is nothing left to say than to thank all the guests who participated and helped us to clean up our beloved house reef.
Written by Brigitte Zintz (PADI Staff Instructor Seaventures Dive Rig) – initiator of Project AWARE 100 Days Clean up Project