These hotel guests don't mind spartan rooms. They're here for the underwater sights.
"A onetime oil-drilling rig stands in crystal-clear waters dotted with tiny islands and their lush green hills. But most impressive is what's underwater—an amazing array of coral reefs swarming with hundreds of species of multicolored tropical fish, sea turtles and other aquatic life. The rig has been converted to a hotel for snorkelers and especially for scuba divers.
"The abundance of marine life is the best I've ever seen," with schools of big fish and without pollution or rubbish, said Craig Brown, a British electrical engineer and scuba diver vacationing on the rig for the second time in five weeks. Other divers agreed. (Mr. Brown's job, based in Dubai, involves surveying the seabed for potential oil deposits.)
The rig sits in the Celebes Sea, the part of the Pacific Ocean ringed by the island of Borneo, Indonesia and the Philippines. Getting here involves a flight to Kuala Lumpur, the capital of Malaysia; another flight to Tawau, on the east coast of the Malaysian Borneo state of Sabah; an hour's drive and an overnight in the tiny port city of Semporna; then an hour's boat ride to the oil rig, now called Seaventures Dive Resort.
Nearby is Sipadan Island, known to scuba divers around the world for its superlative diving. A diving veteran of places like the Red Sea can still be stunned by Sipadan: Coral reefs start at a couple of feet below the surface, just off the coast, and dramatically drop off in steep cliffs to around 180 feet. In a minute, a few oddly shaped and brightly colored individual fish give way to schools of hundreds or even thousands, seemingly unperturbed having a human in their midst. They range from thumbnail size to several feet long, from paper-thin to plump, from striped to polka-dotted or decked out in every hue. Also on view: barracuda and sharks, fortunately of a species that doesn't attack swimmers.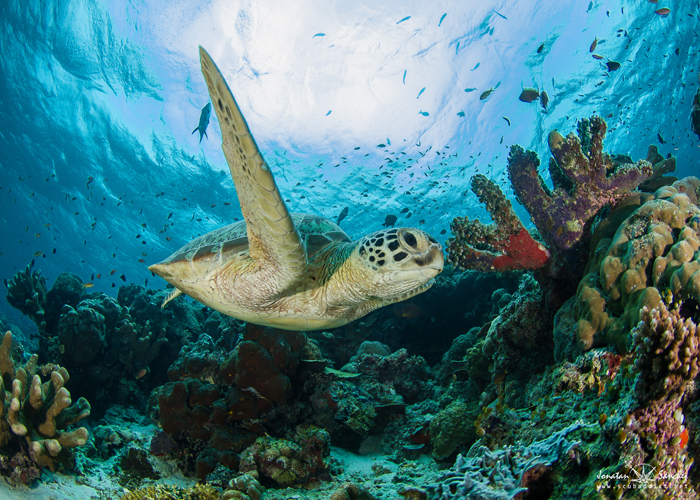 Most Westerners come from England, with plenty of other visitors from Japan, Hong Kong and China. Americans make up fewer than 5% of Seaventures' clientele. "For some reason, Malaysia isn't on the tourist map in the U.S.," says Cahlan Mazur, a 31-year-old math teacher from Washington, D.C., staying on the rig. "I was at [Australia's] Great Barrier Reef for the better part of a week and probably saw more fish here in one day."
Read the full article below by Stan Sesser:
https://schooba.wordpress.com/2010/09/19/seaventures-dive-resort/