Sign language is vital for divers as a form of communication as there is no way we can speak to each other verbally once we get underwater. Standard sign language are first introduced to you the moment you take up PADI scuba diving course.
Should you been away from scuba diving for a long period of time, the first thing that you should do is get yourself familiarized and to remember the sign language before going for your first dive. Do a quick revision with your buddy during buddy check just to make sure that you got it right. The picture below shows some of the most essential sign language: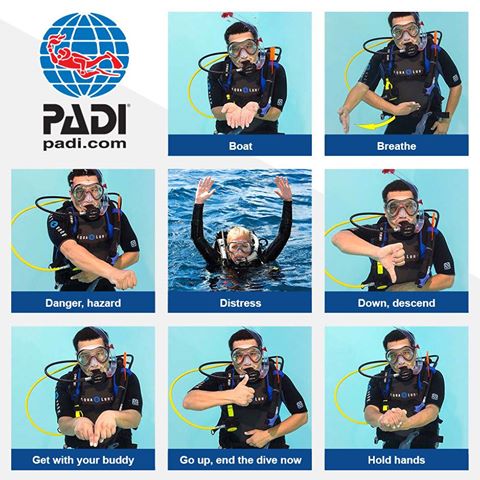 Once you dive regularly, these signage will no longer be alien to you. It will come naturally just as you would speak to your buddy on land. Carrying "conversation" with each other underwater will be so much fun especially if there is some exciting sightings during your dives! If you are new to scuba diving, you should learn about the signage for marine life signage too as you would be especially comes in handy when diving in Sipadan. Do learn about the signage for micros too when you come diving with us as you would see aplenty while diving in Mabul and Kapalai. Should you need help with the signage, please, ask your Instructor or Divemaster.
Interested to be part of the scuba diving community? Check out PADI Open Water Course or write to us at info@seaventuresdive.com for more details on how you can arrange for PADI Discover Scuba Diving with us to see if diving is for you.