Seaventures Dive Rig for Families: What it's like bringing children aboard
Planning a family vacation to Sabah and want to visit Seaventures Dive Rig? Don't be afraid! The Sabah dive rig is just as fun for kids as it is for scuba diving adults!
We spent a glorious month in Sabah, Malaysia, with our six-year-old. We loved the biodiversity of the region, rare animals, new foods, kind people, and many adventurous things to do. We were especially drawn to all water activities in Sabah. With so many islands, diverse marine life, and warm water we spent as much time as possible on the beach and underwater.
Our love of scuba diving and snorkeling led us to Seaventures Dive Rig, one of the best opportunities to scuba dive Sipidan Island and other incredible sights around the Semporna coast.
Though Seaventures Dive Rig is considered one of the best scuba diving-related hotels/ resorts in the world, we were initially nervous to stay aboard with our son. He isn't old enough to scuba dive, there was a possibility of unsafe behavior, plus the concern of keeping him entertained on a floating hotel for three days.
We decided to plan the trip, anyway, and I am so glad we made the decision to not allow our son to hold us back from staying on the Seaventures Dive Rig. It was one of the most incredible hotels and adventure experiences of our lives, and we'd love to return once our son is old enough to scuba dive with us!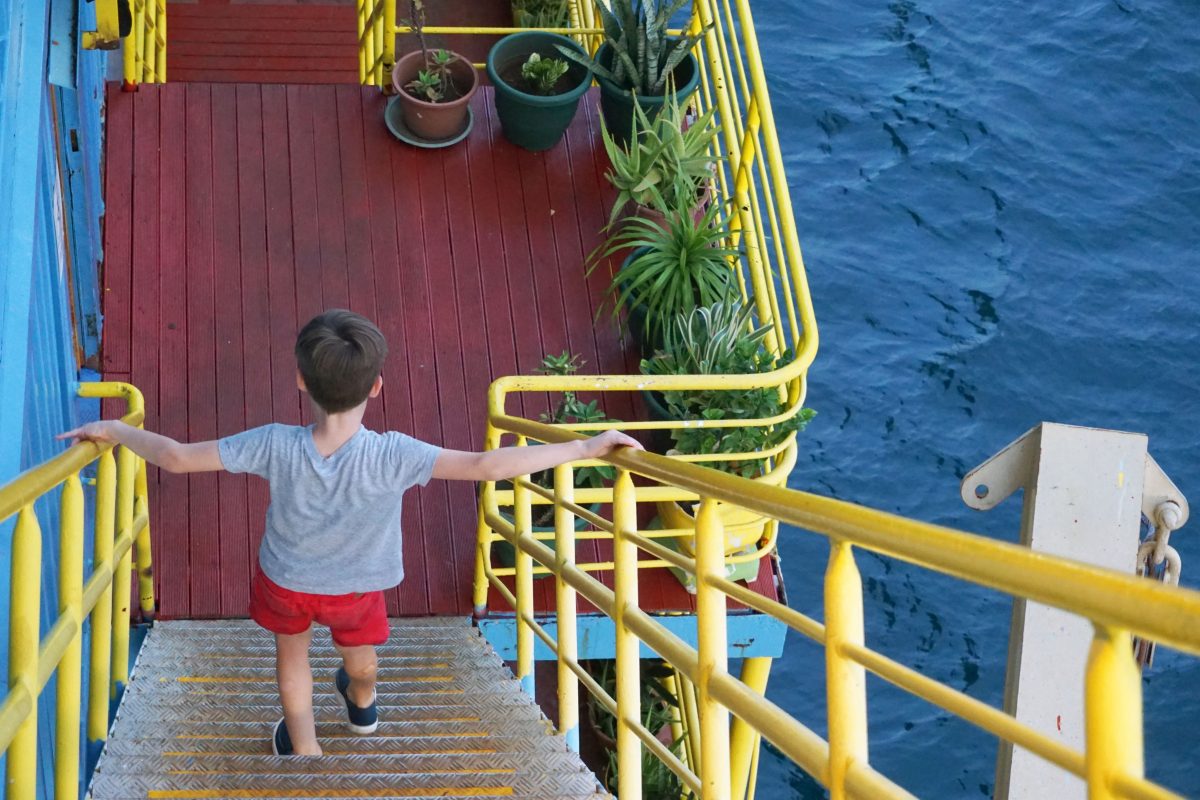 How can a family sleep on Seaventures Dive Rig?
Seaventure offers a variety of room styles based on the number in your party and budget. We opted to stay in one of their deluxe rooms, which featured a king-sized bed, sitting area with couch, private bathroom with shower, TV, and basic amenities.
The Deluxe is the one of the best options for families with small kids. The large bed can accommodate co-sleeping babies and toddlers, while the sitting area provides enough space for larger children. We chose to push some furniture away, place the couch cushions on the floor, and request extra bedding to make our son his own floor bed. We all slept soundly!
Families with older children can consider renting out a Seaventures Dormitory, which features two sets of bunk beds and a shared bathroom.
Food on the Seaventures Dive Rig
Seaventures Dive Rig is a mini all-inclusive resort, offering three meals and a snack each day. Each buffet-style meal is offered for a window of time, meaning we were able to eat whenever it was convenient for our family.
Our son's favorite meal of the day was breakfast, where we were able to choose from a variety of Western-style plates made to order. Not only was it a comforting meal for the mind as well as the body, a large, warm breakfast was a great way to start our day off right!
Other meals always included vegetables, fruit, meat, and rice, which kept our son satisfied (even if he wasn't interested in trying their delicious seafood and international dishes).
His favorite meal of the trip, however, was the Dive Rig's BBQ night. Sure to please every member of your party, Seaventures Dive Rig goes out of their way to freshly BBQ a variety of meats and seafood while you enjoy the live entertainment of a local band one night of your stay. Our son was happy to dance along with the band, hang out at the BBQ with the chefs, and keep everyone entertained!
In addition to meals, Seaventures also has a snack and drink stand available at all times. Guests are welcome to fix their own cups of water, juice, coffee, or hot chocolate and enjoy various cookies and cakes. Our son would fill up on fruit juice during the day, which accounted for a lot of his energy!
The Dive Rig also operates a paid snack bar with sodas and frozen desserts, which we were happy to make use of as rewards for good behavior at the end of each day.
What is there to do with kids on the Seaventures Dive Rig?
As a mini all-inclusive resort, the draw to Seaventures Dive Rig is that it includes your food and activities. The complimentary guided scuba diving trips are the obvious reason to stay at the Dive Rig, but what do you do if you don't scuba dive?
Our son found more ways to keep busy on the Dive Rig than I expected! Here is a list of our favorite things to do on the Seaventures Dive Rig as a family:
Snorkeling Trips: My son and I accompanied a scuba diving trip once each day of our stay. While my husband would scuba dive with the Dive Rig's instructor and other guests, the shuttle boat's driver would equip us with snorkels, masks, and fins and take us to the best snorkeling areas nearby. He would simultaneously watch us snorkeling and keep an eye for any signs of distress from the scuba diving group. I even felt comfortable letting my son hang out on the boat alone with him while I continued snorkeling! If you also don't enjoy snorkeling, the boat rides, alone, are a beautiful and relaxing way to spend a few hours!
Seaventures Dive Rig Jump: The dive rig features an 8-meter jump into deep waters from it's mechanical platform. Nearby the jump area is a floating platform with a ladder, where anyone can swim safely. The mechanical platform is always operated by a vigilant employee who is able to raise or lower it as needed. Our son was brave enough to repeatedly try the famous Dive Rig Jump from a lowered height of 4 meters to the shock and applause of all guests and staff within sight! After enjoying the thrill of a minor jump we would swim as a family along the floating platform.
Day trip to Mabul: During your stay, the Dive Rig will organize an afternoon trip to Mabul Island, their closest neighbor. A short boat ride to the island leaves you for a few hours to wander around, interact with locals, and enjoy the beaches. We spent our Mabul afternoon walking around the island and playing with the local children, which our son loved.
Game Room: The Dive Rig features a large game room with board games, table tennis, and other activities. It was a great place to unwind away from the water, and, since it was never too busy, our son loved having free reign of the games!
Sundeck and Hammocks: One end of the Seaventures Dive Rig is a beautiful sun deck with many hammocks, tables, and chairs. We enjoyed watching the incredible Sabah sunsets from the deck, and had to literally drag our son out of the gently swaying hammocks each night. The sundeck is another spot that was never very crowded and became a family favorite hangout for card games, coloring, reading time, and other activities we brought with us.
Kids scuba dive classes on the Dive Rig:
Seaventures is a PADI-certified scuba diving center, which provides certification and advanced training courses for all levels of divers. My husband got his Advanced Open Water certification on the Dive Rig, and we made friends with a couple who were there for their beginner certification!
 If you are visiting the Rig with kids 10 years or older, they can be certified in scuba diving. This would be the perfect time to get them started! The staff are incredibly enthusiastic about the sport and very fun, patient, and kind, which makes them great teachers for all ages.
The Dive Rig is also well-equipped with all of the gear your child will need to begin scuba diving. Don't worry about bringing their own wetsuit, fins, or other equipment. Let Seaventures handle it all, so you have a fun, stress-free vacation!
Honestly, what experience could get your kids more excited about scuba diving than beginning in such a cool and unique atmosphere? We plan to return when our son is old enough to be certified because it seems like the best start to a lifelong activity!
Kids' safety on the Seaventures Dive Rig:
Our main concern before booking a Sabah scuba diving vacation on the Seaventures Dive Rig was our son's safety. Like many children, he can get overly excited and be hard to handle. I didn't want to spend our vacation chasing after him when I could be enjoying this unique experience, and, luckily, I didn't really have to.
After spending some time making sure he knew how to get back and forth to our room, teaching him to walk carefully on the outer metal steps, and where he was and wasn't allowed to go (mainly the scuba equipment area and unsupervised edges) he didn't need me to hold his hand.
Small children will require extra vigilance around the railings of the Rig and the narrow metal stairs leading from the back deck to the dining area, but other than that, I'm surprised at just how safe the Dive Rig was.
As with any adventure, the most important rule is to understand your child and their skills and limitations. There is no reason you shouldn't all be able to have a fun, safe vacation with Seaventures!
Author Bio:
Susannah is currently traveling the world full-time with her family. Follow their adventures and travel tips on The O'Briens Abroad.