Seaventures Dive Rig has been in position close to Mabul and Sipadan island for over 20 years and in that time. It has developed into an amazing dive site with an abundance of marine life to be found. The vast area both underneath and outside the footprint of the rig have become home to many species of fish and reef creatures. Diving Seaventures' house-reef is also perfect as a check-out dive before you head out for Sipadan diving.
Maximize your house-reef diving
The house reef site is a mixture of flat natural reef, man made artificial structures and sandy bottom at a depth of between 12-16 meters. Free unlimited house reef diving (with a buddy) is included with all dive packages and a large portion of guests make use of this option.
Abundance of fish life
The first thing that strikes you when jump off the lift and start descending down towards the bottom is the abundance of fish life that greets you. Schools of batfish, fusiliers, banner fish and snapper are all around. Once you reach the bottom and start to explore you can't get very far without seeing crocodile fish, scorpion fish and nudibranchs of all types.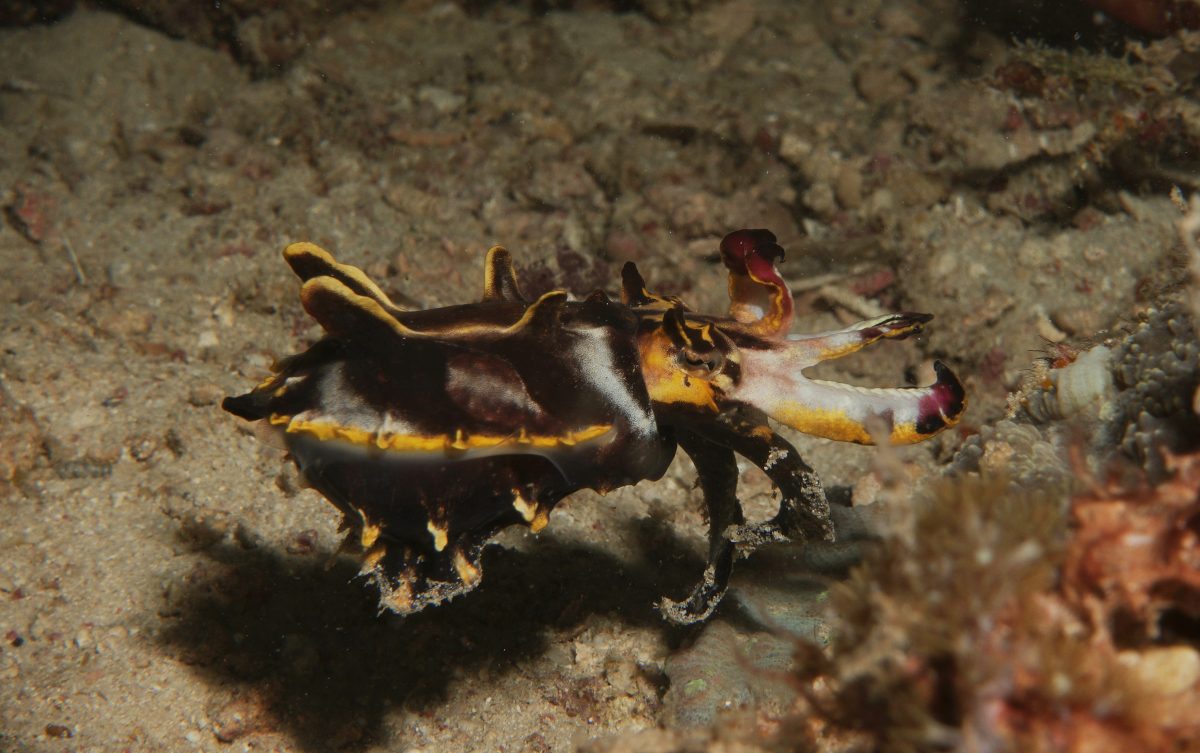 The variation of things that can be found are immense starting with our resident giant grouper to huge moray eels and the occasional sleeping turtle. But the real treasure of our house reef is the macro and super macro critters that can be found. Its not unusual to find flamboyant cuttlefish, harlequin shrimp, painted frog fish and ribbon eels. But the highlight if you have the eyes for it would be hairy shrimp, pygmy squid and cuttle fish. Not forgetting the abundance of colorful nudibranchs and flatworms.
As you can imagine lots of these things aren't easy to find if you're not used to searching for them and that is where our expert guides come in who can be hired to help you find your dream critters so you can spend time taking pictures or just admiring the amazing diversity beneath.
If you are ready to do some diving in Seaventures house reef contact our team to enjoy the best of scuba diving in Malaysia.