Dive Against Debris Hero ~ Brige Zintz
Seaventures Dive Rig recently hosted 100 days of Dive Against Debris program that started with Project AWARE. The Project AWARE Foundation is a movement made up of scuba divers in their effort to protect the ocean planet.
The 100 days of Dive Against the Debris was an idea initiated by Seaventures' PADI Instructor Brige Zintz. With the support of the dive team and management, the project saw its first dive on the 1st December 2015. Rig crews and guests took part in the historical underwater cleanup by collecting the rubbish and compiling the data.
Today, we're proud to announce our first Dive Against Debris Hero of 2016, Brige Zintz.
For the first time in Project AWARE history, Brige Zintz has done what no other diver has before: 100 consecutive days of Dive Against Debris surveys! From December 2015 through March 2016, Brige and her team at Seaventures Dive Rig visited their local house reef off the coast of Mabul Island in Malaysia daily, removing debris and recording and reporting results to Project AWARE.
By the 10th of March 2016, marking its hundredth day the team lead by Brige Zintz has spent 98 hours in total collecting 943 kgs of marine debris. 54% out of the 10,285 rubbish found are plastics.
The survey done by Brige shows how much waste we human put into the ocean. We are endangering not only ourselves and the aquatic life but the planet itself. The ocean produces 97% of planet's water and more than half of the oxygen that we breathe. To put it simply, by discarding rubbish irresponsibly is the same as putting our life to end.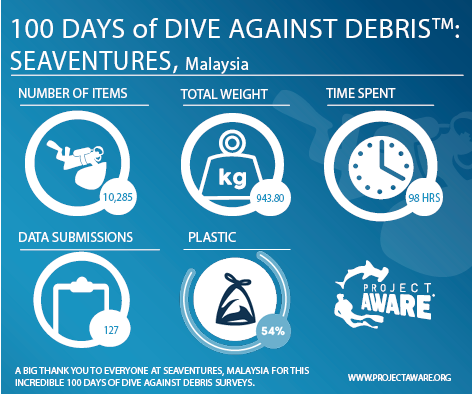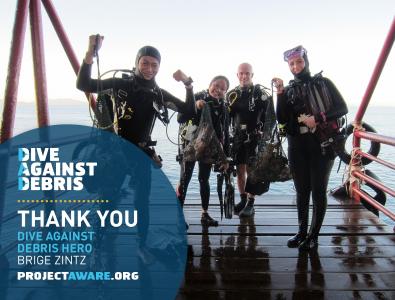 The data compiled by Ms. Zintz will help us to better understand changes in debris flow in and around the area of Mabul and hopefully to inspire more Ocean Hero like her to lead amazing projects such as this.
For the full article, please visit Project AWARE
Seaventures Dive Rig would like everyone to consider use of plastics. Plastics are not biodegradable, don't break down, pose dangers to aquatic life and are toxin carriers. See more here.